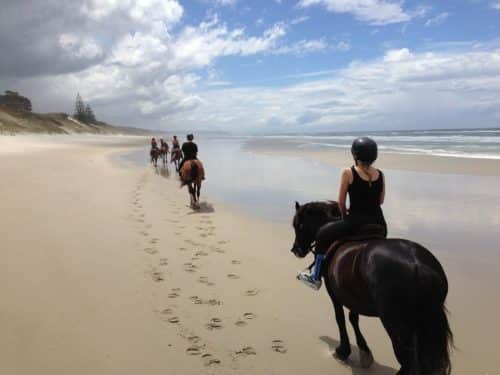 For many of us, February is full of cold, dark days with rain and even snow. But in St Lucie, every day is a beach day. With daily February days in the mid to high 20°C's (63°-68°F), you can say goodbye to February blues. Other than the weather why else should you visit gorgeous St Lucie? Let's take a look.
St Lucie Beaches
Can you imagine more than 20 miles of natural sandy beaches? In St Lucie, you don't need to imagine it because it exists and it is amazing to see. Beach activities are endless. Most people relax on the beach by sunbathing, catching up on the latest New York bestseller and swimming in the ocean. St Lucie has an unmissable activity which isn't available on most beaches. You can ride a horse! If this sounds like a dream come true, check out this horseback tour. It costs $45.00/person for a one-hour beach adventure.
If you are visiting St Lucie with children then this it the perfect post for you: Beach Activities to Enjoy the Beach with Kids. Happy Travels!
Destination of Love
February is officially the month of love. St Lucie is a great place to celebrate your love, and what better day to show your love than Valentine's Day, (14th February). We suggest reserving a private table at Fernando's Dockside Grille, St Lucie's #1 restaurant for dinner, according to Trip Advisor. It's a Mediterranean restaurant that specializes in seafood. You can take a look at the special dinner menu, here.
Cross Off a Bucket List Item
St Lucie and its port are absolutely gorgeous, all around you will be shades of green, blue and golden yellow.  What better way to see it than from above? Check off 'ride in a helicopter' from your bucket list and create a memorable moment in St Lucie.
Local Events
The second month of the year is a busy one for local events, many of which are a hoot and a half. Here are the top 4, which sounds the most exciting to you?
Are you conscientious traveller, that loves the natural world we live in? Check out, 20 Easy Ways to Becomean Eco Traveler in 2019. See how many environmentally friendly travel hacks you can use, when you visit St.Lucie.
Fancy Hotels in St Lucie
St Lucie has a massive selection of great hotels, making another good reason for a visit. You can relax in a comfy and stylish hotel room, during the night and take full advantage of some great facilities and amenities. We have 6 hotels, at a variety of prices, to cater to any budget.
Hotel Tip: Book directly with a hotel, for discount online rates and other great benefits.
Courtyard by Marriot on 10978 South Ocean Drive, Jensen Beach. Prices start from $259, per night. The website provides a flexible date search, which is great for when you are looking for an offer opposed to a specific date. Hotel rooms include a private balcony and access to a private inlet beach.
Dockside Inn & Resort at 1160 Seaway Drive, Fort Pierce. A one-bedroom apartment starts from $119/night. This resort has 2 heated pools and sporting equipment is available for hire, such as kayaking apparatus.
Hutchinson Island Plaza Hotel & Suites at 1230 Seaway Drive, Fort Pierce. Currently, the website if offering major discounts, starting at $143/night, and includes a hearty breakfast.
Island Beach Resort at 9800 South Ocean Drive, Jensen Beach. The resort offers condos with one and two bedrooms. A single room can cost $189/night. Every room is suited and booted, with all the amenities you could possibly need.
Ocean Village Vacation Rentals at 2400 South Ocean Drive, Fort Pierce. Described as a 'home away from home' these rentals are booked on a weekly basis, starting from $500.
Best Western Port St Lucie at 7900 South US Highway 1, Port St. Lucie. For a few nights of luxury, you can book a king bed suite for the bargain price of $189.
When you visit St Lucie, we would love to see your photos. Share them with us on Instagram with #FloridaEscape.