Ask yourself, "What do I really want from my hotel stay?" When you visit the beautiful beach area of Boca Raton, close to Fort Lauderdale, the DoubleTree by Hilton, will have all the answers. This excellently located 3-star hotel has thoughtful amenities to give you and your family the perfect home away from home. Your special vacation experience starts the moment you arrive, at check-in you are welcomed by the professional staff. You also receive a tasty cookie, as a welcome gift.

How to Get There
The hotel address is 100 Fairway Dr, Deerfield Beach, FL 33441-1856. But, from the Fort Lauderdale/Hollywood International Airport, you can be at the hotel in an easy 20-minute drive, taking i-95 North to Exit 42A. A taxi will cost around $60.
However, if you are coming in from Palm Beach International Airport the journey is a little further, as it is 26 miles. However, the route and exit are the same. The 35-minute taxi ride will cost around $65. A few guests travel to the hotel from Miami International Airport, which is a 1-hour drive. Don't pay more than $100 for this taxi ride.
Staying at the DoubleTree by Hilton Hotel Deerfield Beach
Your DoubleTree by Hilton Hotel Room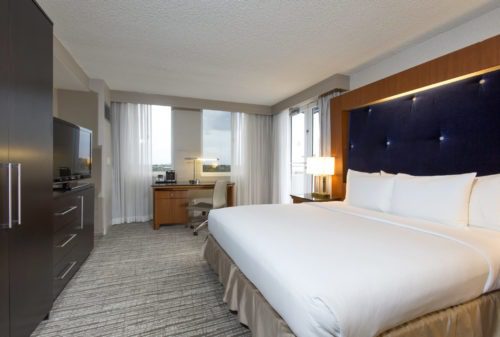 You can choose to stay in a contemporary and stylish guest room or a two-room suite for those that require more space. Both offer a bed choice, choose either a luxurious king-sized bed or a comfy two double bed setup. Regardless of your choices, you will have a spectacular night sleep due to the excellent signature bed design and bedding. With the DoubleTree by Hilton, tiredness is never an issue.
For those wanting to unwind, you can kick back and watch the 32-inch TV with cable and later have an invigorating shower, using deluxe bath products. Be sure to connect to the complimentary wireless high-speed internet facility in your room and share your holiday photos with your friends and family.
>>For more detailed images of this beautiful hotel, including the rooms and gym, check out Facebook<<
Additional Facilities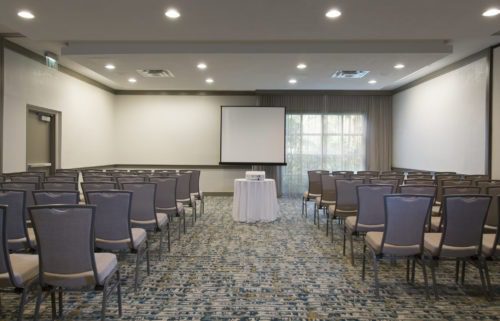 If you have young children, this Double Tree Hotel has thought of you, as cribs and high chairs are available for your convenience. Those traveling for business have also not been forgotten either, you have access to a modern business center. Plus, there is a complimentary printing service, video conferencing and meeting rooms available, should they be needed.
Bring your Pets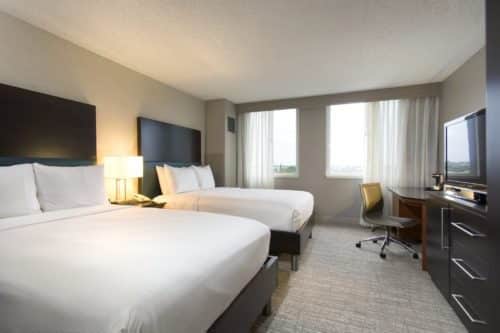 One of the special services the DoubleTree by Hilton at Deerfield Beach offers is no man or pet ever gets left behind. No longer do you have to leave your pets at home and organize a family member to look after them or pay a large fee for a boarding kennel. A stay here means your pets can continue to be part of the family, for the affordable fee of $75. Have them with you in your cozy hotel room.
Already in love with this hotel? You can book your stay today, all you need to do is start by clicking here.
Hotel Bonus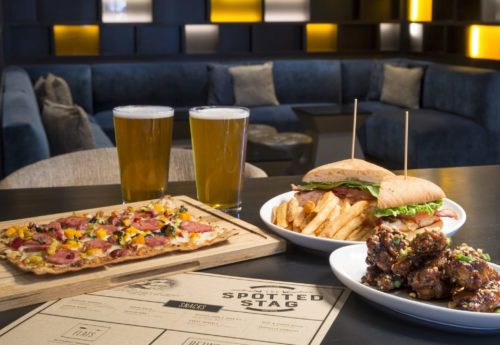 That's not all! On top of all the great facilities and services mentioned, the hotel has a heated outdoor pool and a fully equipped fitness center. So, if you are a fitness fanatic or simply fancy a quick swim you can indulge in a healthy and active lifestyle. Also, the in-house restaurant 'The Spotted Stag' provides tasty meals, treats, and drinks. So, if you don't want to stray far to have dinner or a drink, you don't have to.
Activities Nearby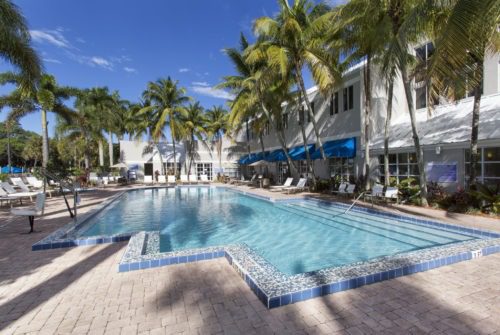 As previously mentioned the DoubleTree by Hilton Deerfield Beach is located in a fantastic spot to explore the local area and the neighboring Fort Lauderdale. If you can drag yourself away from the hotel comforts and a great swimming pool, the Hotel concierge is happy to help organize your dream vacation. All you have to do is ask and you could be going on a scuba diving excursion, snorkeling trips and/or an Intracoastal cruise. Other great localized activities include, but not limited to, are:
Boca Raton Museum of Art
Morikami Museum and Japanese Gardens
Shopping at Boca Raton Town Center Mall
Deerfield Beach and Pier
Mizner Park
>>For more advice on things to do in the Boca Raton area and hotel update, visit DoubleTree by Hilton Deerfield Beaches, Google Maps.<<
We advise always booking your accommodation directly with the hotel, so you can take full advantage of loyalty programs, to guarantee you get the room you want and access to special amenities. You can find out more at 'Benefits of Booking Directly with Hotels.' Also, when you choose to stay here you can share your experience on Twitter with @DbltreDeerfield.
Doubletree by Hilton Deerfield Beach Address, Telephone Number and Social Media Pages
100 Fairway Drive, Deerfield Beach, Florida, 33441-1856, USA +1-954-427-7700
View video on YouTube | View video on Facebook | View video on Linkedin | View video on IGTV