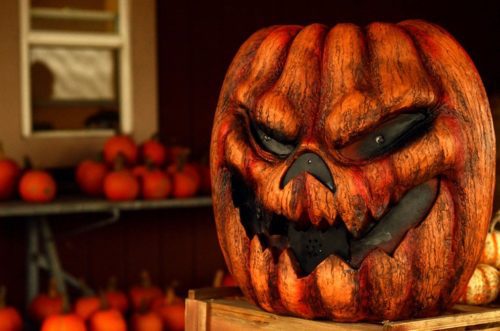 Florida is a place of happiness and fun due to in large part it's nickname "The Sunshine State" and its many colorful theme parks that attract loving families from all over the World. But during the month of October, it becomes a dark and spooky place as theme nights celebrate the dead, scary monsters and wicked witches. Also, many people flock to the cinema to watch the latest horror film.
If you don't yet have plans for Halloween you could combine your love of Florida with one of these scary movies. Maybe you have already seen some of them, but some will definitely be new to you. Here are 7 horror movies set in Florida to scare you this Halloween.
Halloween Horror Film #1: Creature from the Black Lagoon (1954)
If you love old black and white movies then this is the one to watch. While it doesn't have the brilliant special effects of modern cinema, Creature from the Black Lagoon is still very entertaining. Imagine what it must have been like to watch it in the cinema when there had been nothing else like it before.  According to IMDB, it was filmed in multiple sites across Florida, such as Jacksonville, Wakulla Springs, Tallahassee and Silver Springs.
Halloween Horror Film #2: Jack-O (1995)
For revenge slasher fans everywhere, this nineties hit is sure to get you jumping up off your seat. Jack-O escapes his gravesite to seek revenge by killing the descendants of his killer's family, the Kelly's. Perhaps, best to avoid this one if you share the family name. Sean Kelly's Home is 1764 Waterbeach Court, Apopka, Florida and other locations include Geneva, Hollywood, Longwood, Orlando, and Zellwood. So, this is a good chance of recognizing some of the sights.
Halloween Horror Film #3: Devils Advocate (1997)
This devilish thriller starring Keanu Reeves and Al Pacino is sure to make you question the evil world around you and notice potential ways for Lucifer to get his kicks. The opening shots of this film were shot in Jacksonville and Gainesville, which serves as the hometown of the protagonist. See if you recognize it.
Halloween Horror Film #4: Frogs (1972)
One of the best films to watch if you get a thrill out of creepy crawlies is Frogs, which is filmed entirely in Florida. It follows a group of people who visit an island inhabited by killer birds, insects and yes you guessed it frogs. While this horror movie may frighten you, it will also be very entertaining due to the wild and exaggerated nature of the story and special effects.
Halloween Horror Film #5: Dawn of the Dead (2004)
What is Halloween without a zombie apocalypse? This 2004 revamping of the 1978 classic is presented through the eyes of Zack Synder, also known for 300 and Man of Steel. It was a great success at the cinema as it grossed over $100,000,000 worldwide. While most of the film was filmed in Canada, the iconic exploding scene towards the end of the movie was shot in Clearwater, Florida.
Halloween Horror Film #6: Jeepers Creepers (2001)
This modern cult classic has reaped multiple sequels but the original is still the best. It stars Gina Philips a native Floridian, who along with Justin Long's character take a road trip during Spring Break and encounter the creeper. Watch to find out the gory details of what was described as 'The Tastiest Horror Film of the Year!' You can find the exact locations on IMDB and even visit them yourself.
Halloween Horror Film #7: The Haunting (1999)
Partly filmed in Orlando, Florida the final movie on our list stars Liam Neeson and Catherine Zeta-Jones. No horror list would be complete without a haunted mansion and here it is The Haunting. The main characters take part in a sleep study and everything goes wrong after they learn of the ghost stories of the buildings.
Which horror film set in Florida will you be watching this Halloween? If you prefer to binge-watch an entire tv series over the Halloween weekend, check out the "Freak Show" season from the hugely successful tv show "American Horror Story." It is set in 1950's Jupiter, Florida and will be sure to satisfy your spooky desires.